About Douarnenez
Douarnenez, an ancient fishing harbor in Brittany, a prime destination for water sports lovers, means "The land of the island" / "Douar An Enez" in Breton language.
Douarnenez is also known as the city with four harbors.
Enjoy the unique atmosphere of its busy quays, wander about its narrows streets lined with ancient fishermen's houses and artists workshops. Succumb to the charm of the Plomarch walk, the site of an ancient Roman settlement, visit the Museum Harbor, explore the Tristan island that gave the city its name and centuries ago was the lair of the infamous bandit Fontenelle, go for a swim at the Plage des Dames, "the ladies' beach", a stone throw from the city center.
Worthy of note
Douarnenez is only about 20 kms from Quimper, the regional capital, with the Saint Corentin 13th century cathedral, and a picturesque pedestrian district lined with ancient houses.
The small weavers'city of Locronan, arguably the best preserved 16th century city in France, often used for movies settings, is only about 12 kms away. A 2 stars Michelin restaurant is just across the bay, in Plomodiern.
The Iroise marine park, a protected marine environment
The Iroise marine park is the first designated protected marine park in France. It covers an area of 3500 km2, between the Islands of Sein and Ushant (Ouessant), and the national maritime boundary. Wildlife from seals and whales to rare seabirds can be observed in the park.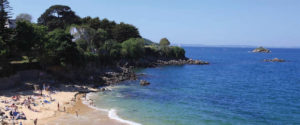 The Société des Régates de Douarnenez, 140 years of passion for sail
The Société des Régates de Douarnenez was founded in 1883, and from the start competitive sailing has been a major focus for the club. Over many years it has built a strong expertise in the organization of major national and international events across all sailing series.
The bay of Douarnenez, an exceptional sailing arena
Douarnenez is the only place on the French Atlantic seaboard that can offer such a privileged and safe sailing environment:
A huge sheltered sailing area: 16 kms wide by 20 kms long
Predictable weather patterns
Weak currents even during spring tides, with little to no impact on sailing Very few navigational hazards
Easy navigation and access to harbors
Sheltered from the South Westerly gales, the strongest in Brittany
A spectacular sailing arena in full view of the public
The marina, and its installations
Shore facilities
According to the competitions, we install a tent in front of the Maison du Nautisme which can welcome between 200 and 500 people:
Registration, official board
Reception, bar, terrace
Briefing
Social events
Club-house at the Maison du Nautisme
The Maison du Nautisme club house offers many amenities :
Showers, changing room, toilets
Functions hall with kitchen and bar
Meeting room for the jury and committee and press Equipment storage facility
Wifi internet connectivity